Hello dudes and dudettes,
I wonder if I have written a blog about music...I generally blog on interesting websites or about myself...but never about music...
I was first introduced to music when a friend of mine let me use his iPod about 3 years ago. Linkin Park was the first I listened to. Then I advanced into other music, new genres, and other bands...its been a really great journey so far, I now own a decent PMP(Portable Media PLayer, for those do not know it) of my own, which is not exactly an iPod, but great all the same...
Mind you, I'll try my best to be impartial, but Rock is what I like most...
So let us start with the...
Honourable Mentions
Backstreet Boys
Audioslave
Avril Lavigne
Bryan Adams
Senses Fail
Green Day
Led Zeppelin
POD
Fort Minor
Radiohead
Westlife
Akon
Eagles
Metallica
Enrique Iglesias
Pentagram
Parikrama
Iron Maiden
And now, Top 55.Bob Marley
Mind you, I have listened to many of his songs, but as much as I have listened, he is really awesome. The tunes, and lyrics are something that I remember still. Robert Nest Marley was a Jamaican musician, singer-songwriter and Rastafarian. He was the lead singer, songwriter and guitarist for the ska, rocksteady and reggae bands: The Wailers (1964 – 1974) and Bob Marley & the Wailers (1974 – 1981).
Songs you must listen:
Pass the marijuana, Iron Lion Zion
4.Nirvana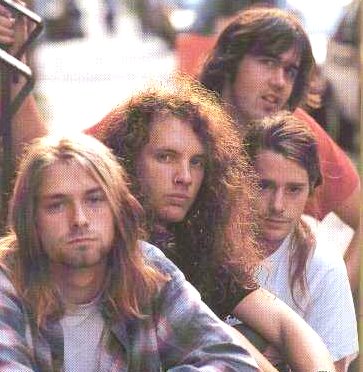 Nirvana is a popular band, at its peak during the early 90s, but their rock music is extremely good, worth megabytes in your collection. Their lead vocalist, Kurt Cobain is an excellent singer, and has a very good base voice and stength.
Songs you must listen:
Entertain Us, Lithium, Downer, Come As You Are, Smells like Teen spirit.
3Magik

Magik is not actually a real band, but a fictitious band in a movie called Rock On, an offbeat movie based on the story of a rock band, the friendship among the band members(the four friends) and how they "live their dream". Offlate, I have been listening to their songs too often...the album, or the movie soundtrack consists of 7-8 tracks. Though its a start here, in India, to make offbeat movies on interesting subjects like this, the music is really awesome and comparable to that of any good band.
Songs You Must Listen: The songs are in Hindi(Indian Language), but the music is really good and the lyrics are funny, rock-like. Here are the songs:
Tum Ho Toh[ (If) you were there], Pichle Saat Dinon Mein[ The last seven days], Rock On[The title track], Socha Hai[ (Have you) Thought of it?]

2.AC/DC
Aussies haven't produced many great bands,IMO. However one band they have produced is the most rawest,hardest and the awesomest hard rock band. AC/DC may have constantly strayed from the path of mainstream success but they have stuck true to their promise to their fans...TO DELIVER HARD ROCK GOODNESS!!
With Highway to Hell, AC/DC earned their first bit of mainstream success.It's title track with the same name has gone onto become a hard rock legend. Even after the death of it's lead vocalist Bon Scott, AC/DC came from the verge of disbanding to deliver the knockout punch to every hard rock fanatic. Back in Black,was the ultimate hard rock album. Not only it successfully combined hard rock and heavy metal to a thrilling effect it did so with ease. Hell Bells remains my favorite track from this band till date. Angus Young remains as one of my favorite guitarists.
Songs you must listen:
Rock 'n Roll ain't noise pollution, Shot In Flames, Black In Black
1.Linkin Park
Shinoda's band (at this point called Linkin Park; used to be called Hybrid Theory before a legal issue with another band) brought in second vocalist Chester Bennington, replacing Mark Wakefield. This was the band that introduced me to rock, though their music is not completely rck, but a mixture of Rock and Rap, called nu metal.
Originally consisting of three high school friends, Linkin Park's foundation was anchored by Mike Shinoda and Brad Delson along with Rob Bourdon. After graduating from high school, the California natives began to take their musical interests more seriously, recruiting Joe Hahn, Dave "Phoenix" Farrell, and Mark Wakefield to perform in their band then titled Xero. Though limited in resources, the band began recording and producing songs within Shinoda's make-shift bedroom studio in 1996.
The present lead singer Chester, and Rapper + Keyboardist Mike Shinoda are the best people of the band. The guitarist Brad has brought a similar raff in almost all the songs of one of their album, Meteora but the songs are still good, IMO.
Songs you must listen:
Numb, In The End, What I've Done, Somewhere I Belong.